Behind the Scenes with GailLA
22 June 2003
This Week's Segment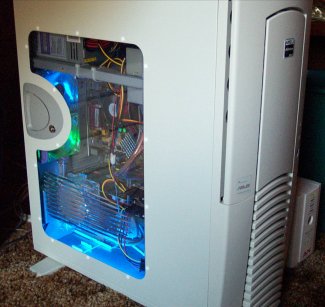 This week I'm going to talk about cleaning your computer case. Forgive the expression, Wabbit, but dust bunnies have no place inside the computer! Like many segments, this one arose from a personal need and interest. I wanted to get my case extremely clean so I could add a side panel window and lights to the case.
While I have taken on the additional responsibility of keeping the case extra clean (Who wants to look inside a dirty case?), the fun of it all is worth the effort. This is something I have wanted to do for several years, but I have never had a large enough power supply to support extras or the money to spend on something that's not at all essential. As always, my computer is a work in progress, but you can see the initial results of my work this week in the picture.
Thanks again to all the folks who answered my questions about using an air compressor to clean the case in the On Computers Newsgroup. I decided not to take that route, but their answers and alternatives to using an air compressor inspired this week's segment.
One thing I didn't mention on the show is that to keep the new window nice and clean, I use Klear Screen from Meridrew. This is a great product that I not only use safely on my LCD monitor screen, but on just about any plastic or glass associated with electronics. This includes the flatbed glass on my scanner and almost any LCD display including my Palm and cordless phone. One thing I like about Klear Screen is that it is safe for delicate plastics and if used with a Klear cloth, it won't scratch (applying it with something scratchy like a paper towel may damage delicate plastics). It leaves a clear, smudge resistant, anti-static coating. I also use it on TV screens throughout the house, and to clean my CD's. No, I don't get a cut of the Meridrew profits. This is just a great product that I use all the time!

Last Week: Bill_B, Joanne, and the Grass Valley Gathering
I didn't have to work very hard last week. Joanne started the show with a segment about magazines and then Bill_B talked about making Windows and Linux work together. I really appreciate their help as well as the help of everyone who turned out for the event. It wouldn't have been much fun without you. I've got the pictures that I have posted, but if you have more photos that you are willing to share, e-mail gail@oncomputers.info and arrange to send them to me.
Thanks also to everyone who worked with us and sent their condolences last week on the death of Jim's mother, Marcella Weir. Your kindness is greatly appreciated.
Name Change
As you may have noticed, we changed the name of site and the segment from "Windows Tips" to "Tips". We did this because we found that we wanted to cover some other topics including hardware and other operating systems like Linux from time to time. We will still do a lot of Windows tips because, after all, most people are still using Windows. Jack and I both do Linux but we don't have Macs. If you have a Mac and would like to do a an On Computers Tips segment, we'd be happy to include you and your machine. Poesmom's (Nancy) Mac was a real conservation piece at the gathering last week, and we'd be more than happy to have more Mac information.
Geek Meet
Next week is the Geek Meet in St. Louis. Neither Jack nor I will be able to be there in person, but we will be there in spirit. We are cooking up a special Tips segment in honor of the event! We wish all the geeks a safe journey and a terrific time at the meet!
Cya next time!
Gail
© 2003 Gail Allinson
---
© 2002 - 2004 by On Computers and the Videotex Services Coalition.