Knocking Around in Knoppix
11 January 2004
This week's topic grew out of two things. First after a very tenacious download on dial-up, I burned Knoppix Live Linux to a CD and booted both my desktop and my laptop computer with it. Second, I received an e-mail from our friend Robert Proffit. If you remember Bob gave us his Anti-Parasite Toolkit as part of our Badware (and how to deal with it) segment. This week he sent me this:
In a nutshell, get a Knoppix 3.3 CD now. Don't say you don't know Linux, you won't even know it's Linux.

Now test that it boots on your system and save it for that rainy day....

------------------------------

What is it good for?

Imagine you have some PC with a crashed OS. Since most will have a CDRW drive fitted, boot up that Knoppix CD and within a few mouse clicks you can look over the hard disk files (FAT32, NTFS, Linux formats and more) and if the machine has a CDRW, you can use K3b (the CD recording software on Knoppix) to secure those files they didn't backup.

This is one for your computer toolkit.

Bob
Talk about "convergence" (this week's CES buzzword). I had just downloaded it and now Bob was recommending it. Thanks Bob.
There are a few things you need to know in order to get started with Knoppix. You need an "386" compatible processor to use it, so sorry no Macs. If you download it yourself it comes as an "image" a.k.a and .iso file. You need a CD burner (CDRW) and software that will take an .iso and turn it into a CD. If the appropriate software is installed it is a no-brainer in Windows -- just double-click on the .iso and your software should open and allow you to burn a CD.
If you are not sure you can boot from CD, go into set-up and make your CD a boot device. Once you have your CD ready, shut down your computer. Take my word for it, a cold boot works better both for booting into Knoppix and also for booting into your installed operating system when you are done. I found that if I didn't cold boot some of my devices were not properly recognized. For example, the APM (advanced power management) module was not loaded for my laptop and therefore there was no battery meter, if I didn't cold boot. I also found that Windows 2000 hung after Knoppix if I didn't cold boot.
I had downloaded an English version of the CD. I was surprised when I got a warning that I would boot into a German Keyboard unless I typed "knoppix lang=us" but I willingly complied. Later I didn't do that and I still got a "us" keyboard when I got to the KDE desktop.
Watching Knoppix boot is a riot. You just sit there as one by one it recognizes your stuff and boots you to a very nice GUI -- the KDE desktop. For the most part, everything worked.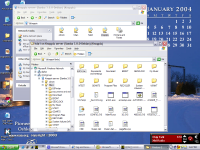 Like all things new, I'm only a Knoppix beginner. What have I done so far? Well I've booted both my desktop and my laptop. I've chatted with XChat using ICS (Internet connection sharing between my laptop and my desktop as the ICS gateway). I started the Samba server on my laptop and was able to browse the laptop from my desktop -- something very handy if I was trying to recover files from the laptop. I've surfed the Web and I've run Open Office. So far I haven't tried burning a CD. I did try running Ventrilo under Wine but I couldn't get it to work.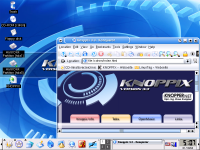 Oh, I also saved this screenshot of my KDE desktop on the laptop :-) This is definitely not your Grandma's Linux!

Here are the essential Knoppix Links:
KNOPPIX - Live Linux File System On CD (official Web site)
Knoppix Linux (Knoppix.net -- unofficial Web site)
So if you've never tried Linux, or even if you have, download and burn yourself a Knoppix CD. Go on and read up, try it, and test it to your heart's content. If you don't feel like going through the download you can also buy Knoppix here. No matter how you get it, if your OS dies and you need an emergency way to save your data, Knoppix may just be your best friend.
Gail
Jackís Two Cents Worth on Knoppix
Thanks to all for the good wishes during my recent hospitalization. Iíve been out a couple days now and am once again on the mend, though Iíll keep this short for reasons of fatigue.
When Robert sent me the email about using Knoppix as a rescue tool, I had one of those slap your head and moan ďwhy didnít I think of that?Ē moments. I carry an incredible selection of boot/utility disks and CDs in my toolbox and, unless Iím terribly mistaken, this could eliminate my need for about half of them. Thanks, Bob! Now I may not have to buy those overload springs for my wheelchair.
So; youíre going to be hearing more on this subject from Gail and I. So far, my experience is perfectly parallel to hers, but Iím going to expand things a bit to see if I can insert a Sony USB 1.1 cdrw into the process and so accommodate even more machines with this obviously effective data recovery process.
Plus; as Kurt Bihler has been telling us all along, the Knoppix CD is a great way to fool around in Linux, or even do some real work, and see if it might be something youíd like to explore further. SuSE also has a live evaluation CD of this type, though for some reason the Knoppix one gets all the press. Iíve not tried the SuSE one so I donít know there may be a real reason itís not so often mentioned or it just might be lack of chance at work.
Jack
Gail's Addendum
Sunday afternoon after the show, I tried and had no problem burning a CD of my Win 2000 home directory to CD under Knoppix using my USB CD burner on the laptop. I booted Knoppix with the burner plugged-in so Knoppix could recognize it (it automatically turns on when it is plugged -- dummy proof). I even had it on a 3 port non-powered USB hub.
I just wanted to prove the concept. This is a late model Archos drive -- I have no idea how other USB CDRW drives would do, but it went very well for me. If I were to do this for real I'd use Joliet file system instead of ISP 9660. I did use I ISO 9660 so the filenames were converted to meet that standard e.g. MY_DOCUMENTS instead of My Documents. That was a little sloppy on my part, but I was just testing to see if if worked at all. I checked the CDR and it worked in several different CD drives. Iím very happy -- I have more than a few tools to recover data here if needed and besides, it is fun.
© 2004 Gail Allinson and Jack Imsdahl
---
© 2002 - 2004 by On Computers and the Videotex Services Coalition.