The Big Game
26 January 2003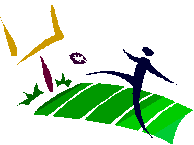 Today is the day of the big game. It's the 37th playing of the most spectacular game in the NFL season. This year's match up between the Raiders and the Buccaneers is in San Diego, and if the game gets boring, we've given you plenty to do with a few links to some super interesting Web sites.

We don't have many Windows Tips for the game, but here are our top three words of warning for geeks during the big game.
A mini-vacuum will not suck the nacho cheese out of your keyboard.
AOL CDs are not the official coasters of the NFL.
Your CPU is not the best place to keep your buffalo wings warm.
San Diego Weather:
Useful Links:
---
© 2002 - 2004 by On Computers and the Videotex Services Coalition.